Smile

rewards program
Creating a beautiful smile requires a lot of teamwork. We bring the expertise, but you're the one caring for your teeth and appliances day in and day out. You should be rewarded for all your hard work!
Book A Free Consultation
How our rewards program works
Every time you do something that helps your progress along, you earn points. Your points are added to your balance at each appointment, and you'll pick up rewards then, too. You can earn bonus points by participating in contests, leaving us a review, or referring a friend!
Once you've earned points, they can be redeemed for gift cards to some of your favorite brands. You can start redeeming gift cards at just 50 points! Replacement cards are available for a 5-point purchase if you change your mind.
Prize Redemption Options
| Points Earned | Gift Card Amount | Prize Option Examples |
| --- | --- | --- |
| 50 | $5 | Starbucks or Chuck E. Cheese's Gift Card |
| 100 | $10 | McDonald's, Claire's, Jamba Juice, or Target Gift Card |
| 150 | $15 | iTunes or Gas Gift Card |
| 200 | $20 | Toys "R" Us, Lowes, Forever 21, Wet Seal, or Windsor's Gift Card |
| 250 | $25 | Bath and Body, Game Stop, Marshalls, Nike, or Walmart Gift Card |
| 500 | $50 | Aeropostale, PacSun, Olive Garden, or Anthropologie Gift Card |
| 1,000 | $100 | Sports Authority, Apple Store, Kohl's, Old Navy, or Sears Gift Card |
Smile Rewards Card
Points
Fun Happens During Pre-Orthodontic Treatment
Graduation from Kids Club to active treatment
25
Coordinate a school dental presentation
20
Participate in a Kids Club activity
5
Each baby tooth lost
2
Bringing your Smile Rewards card to your appointment
2
Showing your Smile Rewards card at a sibling's appointment
2
Scheduling your next appointment prior to leaving the office
2
Writing a story about how you lost your tooth
2
Being a Great Patient Has Its Rewards
Records same day treatment is recommended
25
New patient exam
10
Excellent oral hygiene
5
Being on time
5
Nothing loose or broken
5
Wearing appliances as instructed
5
Seeing Your Dentist Regularly Is Important
Dental cleaning/exam
50
Requested dental treatment complete
10
No cavities
5
Great Ways to Earn Extra Points
Referring a friend
100
Orthodontic video testimonial
100
Online hub review
100
Online review with Google, Google Plus, YELP or Angie's List
(Please let us know when you leave online reviews. We want you to have your points right away.)
100
Arranging a classroom tour of the office
100
Arranging a girl scout or boy scout group meeting at the office to earn a merit badge
100
Referring a family member
30
Facebook testimonial
25
Graduation from Jr. High or High School
10
Photo of you wearing our practice T-shirt at a community event
10
LIKE practice Facebook page
10
Wearing our practice T-shirt to your appointment
5
Bringing a friend to your appointment
5
Patient celebrity or photo or article
5
Participating in office contest
5
Having an appointment on your birthday
5
Rewards program rules
To keep our program fun for everyone, we ask that you follow a few rules.
Points or gift cards are not redeemable for cash
Points and prizes are subject to change at any time
Dental reward points are available when returning a completed dental certificate
Please notify us when you leave an online review to receive your points
Check your current points
Already started earning? Just log in to your smile rewards account using your 16-digit rewards number and 4-digit password to check your current points.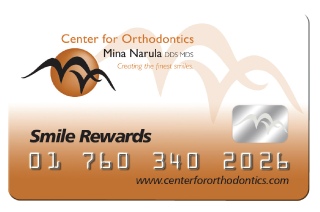 Start working toward those rewards!
Ready to participate in our smile rewards program? Book your first appointment with us! You'll get 10 points just for coming to your free consultation, and another 25 when you get us your dental records the same day that your treatment is recommended.
Book your free consultation