Braces
Traditional treatment with reliable results
Braces have been around since the time of the ancient Egyptians, but the appliances we use today are nothing like their predecessors. Modern braces are smaller, sleeker, and more efficient than ever before.
Book A Free Consultation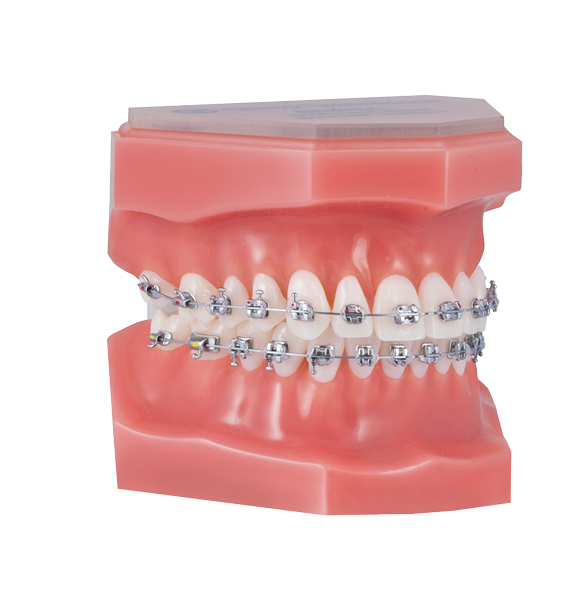 How do braces work?
Braces are made up of three components: brackets, elastics, and archwires. The brackets attach to each individual tooth, with the metal archwire running through them. The elastics are what hold it all together!
At each adjustment appointment, Dr. Narula will place small bends in your archwires and adjust your elastics so that gentle pressure is applied to guide your teeth into proper alignment.
Types of braces we offer
At Center for Orthodontics, you can choose metal braces, ceramic braces, or a mix of the two!
Metal braces
Metal braces are what come to mind when most people think of "braces". The brackets and wires are both made of medical-grade stainless steel. Durable and affordable, metal braces make a great choice for even severe orthodontic issues.
Ceramic braces
Ceramic braces have metal wires, but the brackets are made of tooth-colored or clear ceramic instead of metal. These braces are more popular with adults since they discreetly blend in with the color of your smile.
Benefits of braces
Braces are a wonderful and reliable treatment option for all ages. They are:
Versatile: Braces can treat all kinds of orthodontic issues from simple to complex.
Customizable: You can change the color of your elastics to suit your personality.
Affordable: Braces continue to be the most affordable way to straighten your teeth, especially with our flexible payment plans.
Accurate: Braces are an extremely precise and reliable way to straighten your smile.
See if braces are right for you
Braces are just one of the ways we help our patients. At your free consultation, we'll help you determine if braces are part of your smile journey.
Book your free consultation